Live Events
Join one of our live events or create your own event by inviting your friends
Dance, Sing, Party, And Socialize During One Of Our Hosted Events Or Create Your Own Event
Get ready to party with others in our community! Hello, It's Me will host virtual dance parties, karaoke parties, and so much more. All you have to do is register and join live during the event. Have a special occasion coming up? Request an event, invite your friends, and we will do the rest.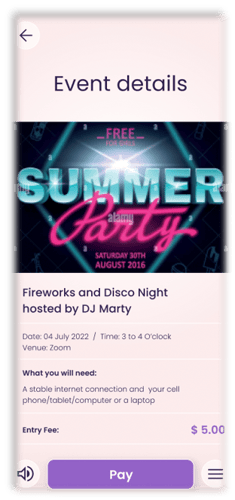 Why Attend One Of Our Events?
Secure
Easy secured access to public and private events
No Subscription Needed
No subscription necessary for public events
Customizable
Create and customize your own private events
Human Support
Human support for event scheduling and rescheduling
Monitored Events
All event sessions are monitored for the avoidance of profanity, nudity, and offensive content
Multiple Languages
Available in English and Spanish
Upcoming Events
Please check back for more upcoming events!
Voice of Uniqueness
Now through June 1st
Welcome to the Voice of Uniqueness singing contest! This exciting event is a celebration of the diversity of voices and talents within the community. We invite all individuals to showcase their unique singing abilities and share their love for music with a wider audience. Participants can submit their singing performances in any style or genre, including acapella, accompanied, or with instrumental backing tracks. Each submission will be entered into our raffle. We look forward to hearing your amazing singing performances and celebrating the unique qualities that make each voice special.
Virtual Art Exhibit
Submissions due by April 15th
Calling all artists! Showcase your creativity and talent in our virtual art exhibit and be entered for a chance to win exciting prizes! From paintings to sculptures and beyond, we want to see your unique perspective and vision. Join us in celebrating the power of art to connect and inspire. Submit your artwork today!
Don't Miss Out On the Fun
RSVP for one of our events today!