Relationship Coaching
Speak to one of our relationship coaches no matter what relationship issues you are facing
Our relationship coaches are here to support you as you meet new people and make new friends!
You can receive relationship coaching if you'd like extra help in learning how to meet and get along with new friends or start a new relationship. This is not therapy but coaching that will help you learn some new skills.
No-Pressure Connection With A Trained Professional IDD Coach

Trainers Focusing on Guidance On Relationship, Family And Personal Issues

30/60/90 Minute Sessions

Easy Scheduling And Re-Scheduling Options

Human Staffed Helpdesk Support To Manage Any Scheduling Issues

Sessions Will Recommend

F

ollow-up Pathways With Learning Resources

Available in

English And Spanish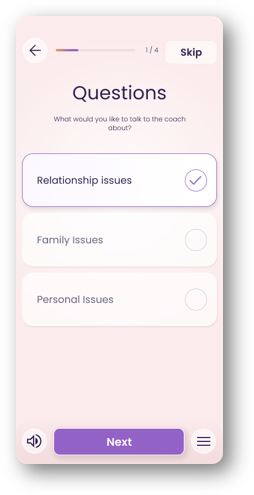 Our Relationship Coaching offers a secure environment for individuals to explore and understand their emotions, desires, and boundaries.

Benefits of Relationship Coaching
Relationships can be tough but we are here to help!
How to Ask Someone Out on a Date
Asking someone out can be intimidating. Let us assist you in asking that person out.
How to Let Someone Know You're Not Interested
Not being interested in someone is okay but can be uncomfortable. We will guide you in ways you can respectfully tell someone you are not interested.
Taking Your Relationship to the next Level
Uncertain about how to move to the next step in your relationship? We are here to assist you in how to take your relationship to the next level.
Help with Communication Skills
Communication is key in any relationship but can be one of the biggest challenges we face because we all communicate differently. Learn how to understand the other person and how they communicate.
Dealing with Conflict Within a Relationship or Friendship
Conflict is never easy. We can help guide you and provide you with healthy ways to resolve conflict.
How to Make Friends
Let our coaches assist you in how to reach out and make friends.
Pricing
You do not have to have a paid subscription to access our relationship coaches. All coaching sessions are an additional fee.
Get Started
30 Minute Session
Most Popular
60 Minute Session
Save Money
90 Minute Session
Interested in Becoming a Relationship Coach?
Fill out the interest form to learn more about becoming one of our coaches! For questions, reach out to us at hello@hello-itsme.com.